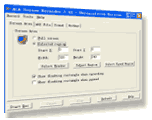 We recommend you to use hotkeys because it is easier and faster. ACA Screen Recorder uses two system-wide hot keys:
To start and stop AVI file recording, the default is Ctrl+F2.
To pause the recording temporarily and resume it again after a while, the default is Ctrl+F3.
Simply click on the Settings button from the Hotkey panel to redefine the hot keys.