How to select other audio source on Windows 7 or Windows Vista
Last update: Jan 30, 2012
ACA Audio Recorder supports for recording audio from Microphone, CD Line, Stereo Mix, etc. The Device tab on ACA Audio Recorder shows a list of audio source. However, Windows 7 and Windows Vista disable some devices of the less frequently used, when you are using Windows 7 or Windows Vista, there may only show 2~3 devices, such as Line In, Microphone, you can't find Stereo Mix, Aux Mix or others.
To show all recording devices on ACA Audio Recorder Device list, please do following steps:
Launch ACA Audio Recorder. If you have not installed, please click here to download the trial version.


Click Volume Control on Device tab. The Windows Sound dialog open, as it is shown in the figure: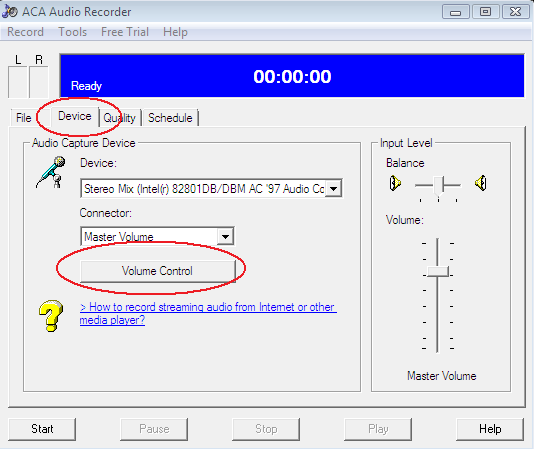 Right click the recording device on the Recording tab, and then check Show Disabled Device menu item


Right click the disabled device, and then click the Enable menu item, as it is shown in the figure:




Click the OK Button.


Close ACA Audio Recorder, and then restart it.


Free Trial ACA Audio Recorder Now | Buy ACA Audio Recorder Now
See Also: