Capture DirectX Game Screen - WarCraft III
Next >> | Return to Features Tour
ACA Capture Pro supports for capturing DirectX/Direct3D screen. The following image was captured with pressing the ACA Capture Pro's hotkey - "Scroll Lock" on the game "WarCraft III" screen: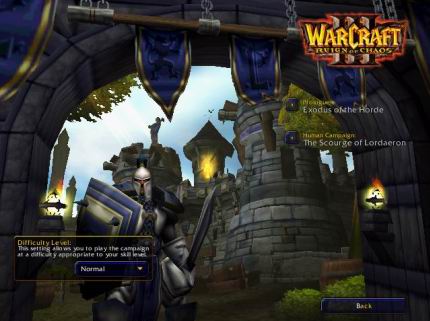 Click for large preview the screenshot of WarCraft III
Tips: ACA Capture Pro allows you to capture the DirectX/Direct3D game or Video Player screen. To enable this feature, please do following steps:
Launch ACA Capture Pro. If you have not installed, please click here to free download ACA Capture Pro.
Select menu Capture | Enable DirectX Capture, the DirectX/Direct3D Capture dialog opens.
Check the option Enable Capture DirectX/Direct3D Primary Surface, DirectX Overly.

check this to capture from software using Microsoft's DirectX and Direct3D technology or an overlaid screen, such as that you would see inside the region of a DVD player application, or a game like Aget of empire, Empire Earth, etc..

Please use [Scroll Lock] as the hot key to capture game/video screens. Games that are currently running may need to be closed and re-started for captures to work correctly.
---
See Also
:
FAQ: How to capture image from a movie(Media Player, RealPlayer/RealOne, DVD etc.) or a game screen?
---
Free Trial ACA Capture Pro Now | Buy ACA Capture Pro Now