ACA Screen Recorder Overview
ACA Screen Recorder is a screen recording software, it records all screen and sound activity on your comptuer and then saves it as a standard, easily edited, AVI (Audio-Video Interleaved) movie file, this format can be played under Windows, as well as the Internet. With ACA Screen Recorder, you can create professional-looking video tutorials and demos without any programming or multimedia skills.
Please note that ACA Screen Recorder is NOT intended for re-recording of other video clips from the screen (e.g. playing in Windows Media Player, RealVideo, QuickTime etc.), but rather for creating regular software presentations, tutorial, demos etc.. If you still want to try it for re-recording other movie clips, please read this article first.

Free Download

Buy Now!

Upgrade
The Screenshot of ACA Screen Recorder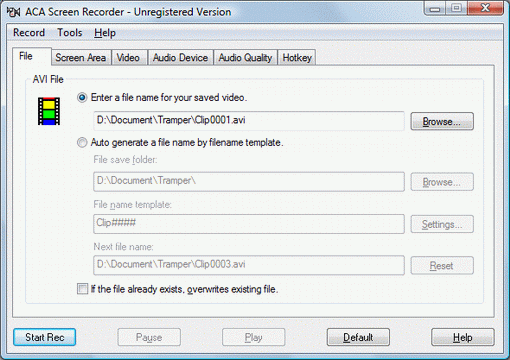 More screenshots of ACA Screen Recorder
ACA Screen Recorder Features:
System-wide hot keys to start, pause, stop screen recording.
Easy precision visual screen area or window selection.
Sound from your system microphone or other media player is also recorded.
Optional sound, with choices for recording quality.
Show flashing rectangle when recording or paused.
Capture in any screen color depth
Automatically incrementing file names for captures using filename template.
Multiple video compression choices
Convenient, user-definable hot keys, including 'pause recording'.
Frame rate and video compressor choices.
Audio compressor choices.
Configure video compressor.
Mouse cursor recording can be turned on or off, true shape of the cursor is recorded.
No Quibble 30-day Money-back Guarantee

There is a 30-DAY MONEY-BACK GUARANTEE! on our products , even though you also have 30 days to try it for free before registering! The 30-day money-back period starts at the time of registration (purchase). If you buy now you will be enjoying all the benefits of the registered version within minutes!
ACA Screen Recorder Quick Start Tutorial:
For the purposes of this introduction, we will be using ACA Screen Recorder's default values, and basic settings. Later, you will discover the flexibility and ease of use that ACA Screen Recorder's options offer you.
For best performance, set your color depth to 256 color mode.
Launch ACA Screen Recorder. If you have not installed, please click here to free download the trial version.
Click Select Region button from the Screen Area tab, and use your cursor to outline a small capture area (approximately 320x240). Notice the sharply defined box you can size, as its size is interactively displayed. Click to confirm the size and position of your capture, and place your mouse cursor in the area.
Click on Ctrl+F2 (the default start/stop hot key) to begin recording. The ACA Screen Recorder window will temporarily disappear to allow the capture. Move your cursor within the capture area, and then, after a few seconds, click on Ctrl+F2 again to end the capture.
Congratulations, you have just made your first movie! It's that simple. Now, click on Play in the ACA Screen Recorder dialog, to view your creation.

Next, take the a few minutes to browse this brief help file, the knowledge and tips you will gain will make it worth your small investment in time, enabling you to get the best results in the shortest time.