What is HSL Color Spaces?
The Hue, Saturation, Lightness (Luminance) system is like HSB/HSV. The main difference is that Brightness is a nonlinear parameter while Lightness is a linear one. Other applications sometimes use other models. Just Color Picker sets a value from 0 up to 255 for every parameter for HSL, and from 0 up to 240 for every parameter for HSL(Win).
HSL is similar to HSV. For some people, HSL better reflects the intuitive notion of "saturation" and "lightness" as two independent parameters, but for others its definition of saturation is wrong, as for example a very pastel, almost white color can be defined as fully saturated in HSL. It might be controversial, though, whether HSV or HSL is more suitable for use in human user interfaces.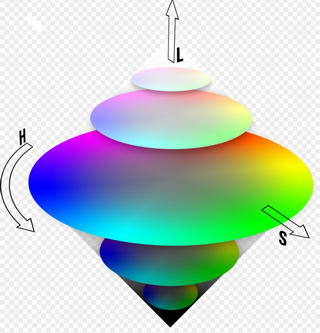 HSL arranged as a double-cone. References: Wikipedia
ACA Color Picker Supports for HSL/HSL(Win) Color Space
ACA Color Picker supports for capturing the color value of any screen pixel and displays its value in HSL/HSL(Win) format. To apply this feature, please do following steps:
Launch ACA Color Picker. If you have not installed ACA Color Picker on your computer, please click here to free download the setup file, and then install it.
Select HSL or HSL(Win) on Format option. the Color List will show the picked colors in HSL or HSL(Win) format, as it is shown in the following figure: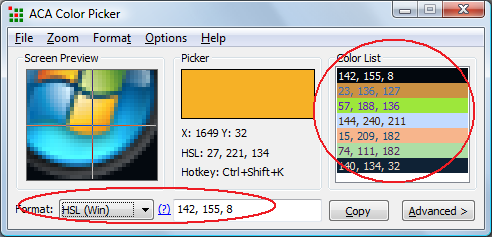 Free Trial ACA Color Picker Now | Buy ACA Color Picker Now
See Also
HSL Color Spaces References
Wikipedia.org: HSL and HSV